Uncanny possibilities
Sandrine Deumier + Gaël Tissot

Performance poetry / music /video
Uncanny possibilities is a performance for one performer (text), one musician (electroacoustic) and a video. Composed of intangible spaces enveloped by a constant fog, the virtual world ofUncanny Possibilities is an uninhabitable place, a non-place. In this unstable environment in a state of semi-erasure, humanoid automatons perform repetitive actions with no real consequences and shift the boundaries between the animate and the inanimate, the human and the inhuman, the tangible and the intangible.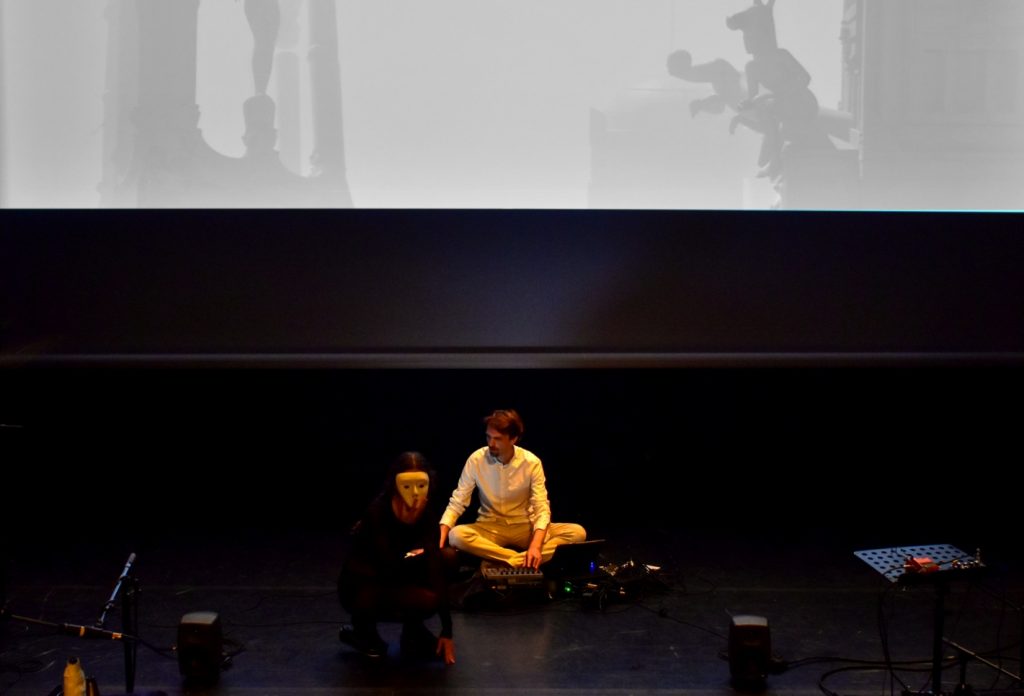 Ces espaces ainsi dématérialisés et traversés par ces automatismes de l'absurde, sont le lieu d'un dialogue en miroir. Ce dialogue est une joute poétique : le duel psychologique d'une unique conscience dédoublée, distinctement audible en deux voix séparées s'interrogeant et se répondant. Cependant, propos alogiques et questionnements sans réponse ne vont cesser de renverser les données de ce dialogue, occasionnant une forme d'errance du discours jusqu'à une totale dématérialisation de la conscience. Le sujet parlant n'étant rien moins qu'un objet pour lui-même.
Les différents espaces immatériels de l'environnement virtuel vont ainsi refléter les multiples états de consciences de ce personnage dédoublé et inconsciemment séparé, jouant avec lui-même une joute dialectique à l'issue impossible. Uncanny Possibilities is a game place for consciousness. 
Le projet musical d'Uncanny Possibilities ' musical intention is rooted in electroacoustic music that is improvised/reproduced live on loudspeakers during the performance.
Surrounded by his various electronic instruments, Gaël Tissot explores a musical world that creates a balance between video and text: on one hand the slowness and intangibility of the character in the video, on the other hand the dynamism and thought brought by the text.
The music ofUncanny Possibilities draws from, while also modifying, image/music interaction
which are often found in video games. The texture of the sound follows the movement of the character, musical landscapes surround him, a dialog between music and voice establishes itself.
Mais la musique raconte également sa propre histoire, celle, intemporelle, des phénomènes de tension et de détente progressive, de mémoire, d'oubli, de courbure, d'anamorphoses du temps ou de l'espace…
Uncanny possibilities a été joué au festival Expoésie (Périgueux), Traverse vidéo (Toulouse), et sera présenté en novembre 2019 au CIAM de l'université de Toulouse.