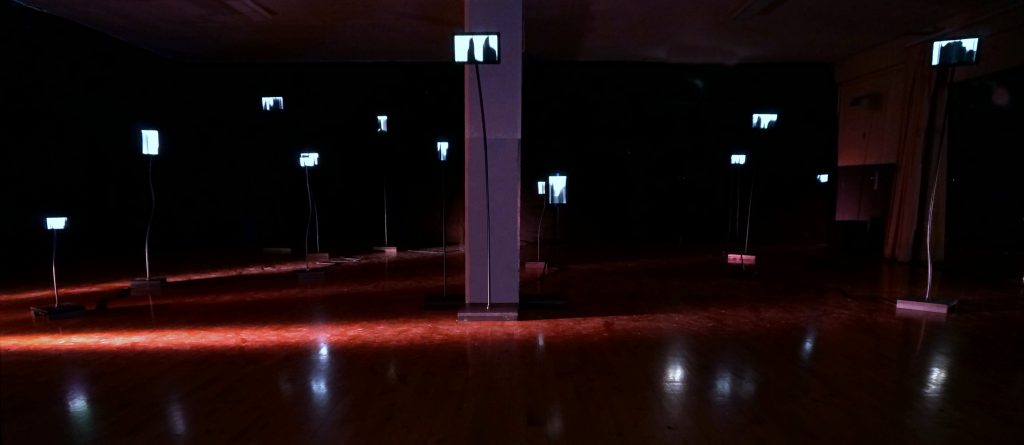 Phonoscopia
Digital participative work for an orchestra of screens
Phonoscopia est une installation pensée comme un orchestre d'écrans, où le son et l'image circulent de manière synchronisée entre chaque fragment que constitue la multitude d'appareils mobiles utilisés (téléphones, tablettes, etc.). En touchant un appareil, celui-ci prend davantage d'importance au détriment des autres, qui s'éteignent progressivement. Des fragments de textes poétiques apparaissent sur l'écran touché, questionnant les rapports entre individuel et collectif.
Dans cette perspective participative et ludique, Phonoscopia détourne l'appareil de son usage premier en le reliant aux autres par des lignes de force communes. L'œuvre repense alors l'influence de chacun sur le réseau mais également, à l'heure des GAFA, l'influence que le réseau possède sur chacun.
En se connectant au projet via Internet, il est possible de rejoindre le réseau avec son propre smartphone, qui devient alors un fragment supplémentaire de l'œuvre.
The sound and visual world of Phonoscopia is a maze in which the public can move freely. It is then at the centre of a hypnotic multi-sensory experience consisting of rhythmic games, textures, lights and snippets of texts read or scattered on the different screens. Like an orchestra, soloist devices can emerge, or on the contrary blend into the tutti. In this astounding environment, the double meaning of the term "screen" is revealed: what makes it possible to access information, but also what conceals a reality whose complexity escapes us.
An interactive work, Phonoscopia allows each connected device to reconstruct part of the sound and visual polyphony, and to enrich it by weaving a network of connections. Metaphor of the relationships between the individual and the collective, each connected device can influence the entire network. Like humanity, it is only in the multiplication of its fragments that the work appears to be the most accurate.
Soutiens : festival La science de l'art (Essonne), GMEM – Centre national de création musicale (Marseille), le Bel Ordinaire (Pau).
Diffusion: festival La science de l'art (Essonne), festival Safra'numériques 2022